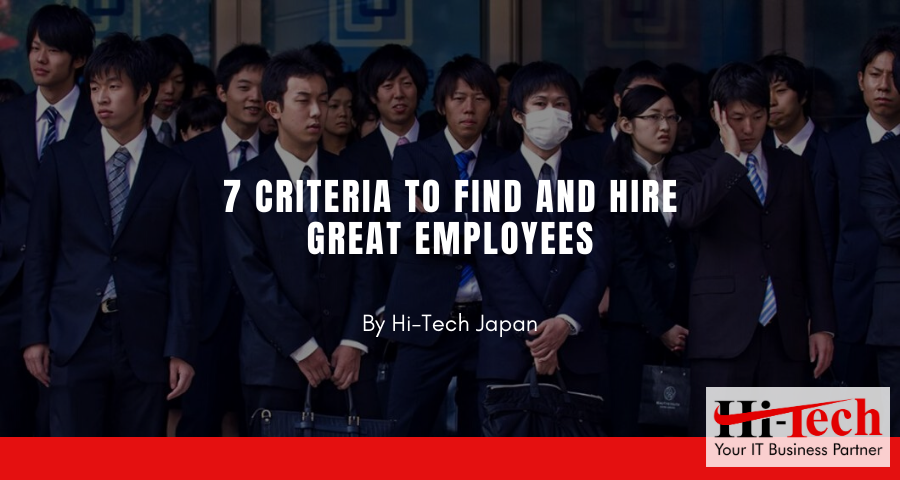 7 Criteria To Find And Hire Great Employees
With the current state of the economy, hiring the best employees is a make or break decision for your company. You can't afford to lose money or time for a bad hire. Choosing the wrong employees for your job might cost, you at most, US$50,000 according to Forbes.
Finding, interviewing, engaging and training new employees can be very expensive. Don't forget that the new hires need desks, phones, computers and any other related equipment for their job. Don't forget about their salaries and benefits. As an employer, your new hires are an investment to guarantee a good financial return with time.
Over the time you have been running your business, you must have come across different types of employees. Some of those must have been major contributors to your company's success while others did not work out in the long run.
In most cases, if you end up terminating an employee, there must have been a problem with the hiring process in the first place. For instance, you must have hired the employees who matched the job description, experience and best skills.
Well, you need to do better. If you want to find the best new employees, you should consider the 7C's outlined below for the best results.
1. Competent
First, you need to consider whether the potential employee has the necessary skills, education or experiences to complete the tasks in the job description.
2. Capability
Here, you need to consider whether or not the potential candidate will be able to complete the easy tasks for the job. Also, he/she should be able to find new ways to deliver on any functions of the job that need more effort and creativity. A good employee should be able and willing to take on more responsibility as well as have more potential for growth.
3. Compatible
A good employee should be able to get on well with the other employees. Also, he/she should be able to get along with the potential or existing partners and clients. The best new hire will be willing and able to be harmonious with the boss or there will be issues.
4. Commitment
Look for a candidate who is ready to work for long-term. Don't hire someone who is passing through and always looking for something better. You can look at each candidate's past jobs and time spent there to get proper insight on their longetivity.
5. Character
A good employee should have values that align with those of your company. He/she should be honest and tell the truth as well as keep their promises. Also, a good employee should be above reproach, selfless and a good team player.
6. Culture
The culture of the company is the way that people behave and interact with each other. It is based on expectations, values, procedures and policies that influence everyone in the office. Any new hire should match the company's culture or they would be difficult and disruptive.
7. Compensation
You need to make sure that the new hire agrees to the compensation package offered and is completely satisfied. If not, they are likely to underperform and feel unappreciated. You should be careful about granting new hires stock in the company because it might create future challenges if not handled properly.
Conclusion
During the interview, the potential candidates will offer their answers to these categories. They might be exaggerated or modestly presented. Your job is to get to the truth so you can get a clear picture of the potential new hires. Before hiring anyone, you need to talk to their referees. Always ask the candidate for names of their bosses, subordinates or colleagues to get the true picture of their work.
From such information, you should be able to ascertain whether or not the potential candidate will be the right fit for your company. There will not be mincing of words. Take these tips into account when hiring a new employee for the best results.
And as always, Hi-Tech Japan can support your effort regarding candidate search in Japan: https://hitechjapan.co.jp/employers/
Good hunt!
Hi-Tech Japan