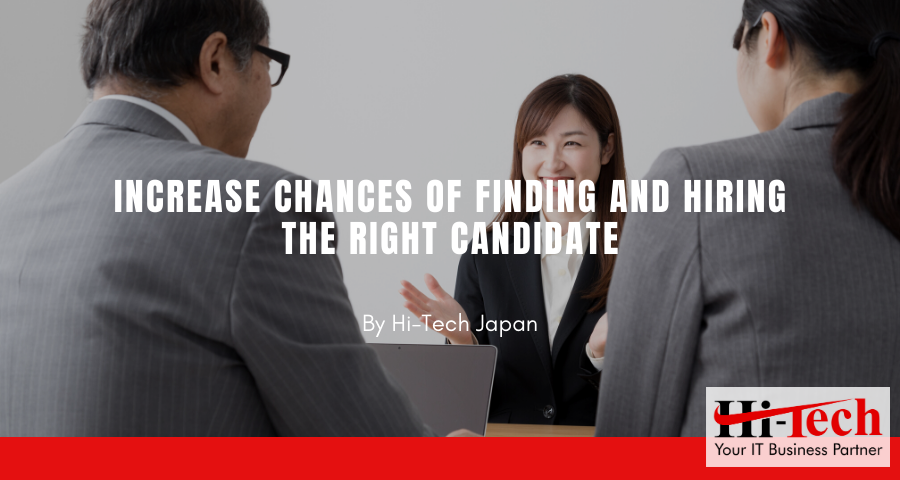 Increase Chances Of Finding And Hiring The Right Candidate
Are you planning to hire new employees this year? Here are a few tips and ideas on how to improve the chances of finding and hiring the right candidates for the job.
1. Build A Reputable Employer Brand
Some of the best (and potential) employees like to be associated with a reputable brand. If you are yet to build a strong employer brand yourself, maybe it is time you started working on it. Let everyone know what your company is, what it stands for, and what it has to offer. It is with a strong reputation that the best talents will find themselves attracted to you.
A study published by LinkedIn shows that an employer's reputation has a significant impact on hiring, and especially for recruitment companies. 72% of all recruiting companies attest to this, with CareerBuilder indicating that 64% of candidates first look into a company before sending an application. 37% of these candidates will avoid companies without any form of credible information online.
2. Create A Careers Section on Your Website
Many company websites are focused on attracting potential and loyal customers, hence hardly focus on prospecting employees. You can however use your website to outline your company history, team culture, potential hires, and what benefits you have to offer to your employees. Such information will make potential candidates want to join the team.
Including a careers section on your website and ensuring it is clearly labeled should play a significant role in attracting the right candidates. Be sure to include information a potential candidate/employee would need about the workplace. These include a group photo of your team, pictures of the workplace, virtual (video tour) of the office, and interviews with existing employees. These are some of the motivators some potential but talented candidates want to influence their decision.
3. Offer Extra Perks (Lifestyle and Intangible) For Your Employees
Almost every employer wishes to hire the best candidates for the job. The tight labor market, however, means good candidates can choose and pick jobs/employers at will. While offering certain perks such as a handsome salary, retirement plans, and health insurance almost always does the trick, you can focus on other lifestyle but intangible benefits for your employees. Some of the perks that might make a potential candidate want to work for you include telecommuting options, flexible work schedules, free snacks and coffee, family-friendly workplace, and in-office events/ company outings. Some of these options won't cost your company anything but will have a tremendous impact on the kind of talent you attract.
4. Publish Comprehensive and Clear Job Descriptions
An unclear job advertisement will only result in only a few candidates applying for the position. That said, strive to ensure the job description is informative, comprehensive, and easy to understand. A good job advert will contain descriptions such as job title, responsibilities for the position, and other qualifications, including experience, skills, location, work schedule, company overview, and the company's description of the ideal candidate.
You could also include other vital information such as employee benefits, reporting structure, salary range, and company culture and personality. Be sure to review the description before publishing it on your site and other job boards. Avoid meaningless buzzwords and jargon that could push the right candidates away. All job descriptions should also be posted on the company website on the career page rather than as a downloadable PDF. This way, Google and other search engines will be able to read and even index the content. This also means potential candidates can access the job advert from just a simple search.
5. Advertise Vacancies in The Right Places
Posting the job advertisements on your website alone isn't enough to attract the right talent. Make a point of having the description published on popular online portals such as Job boards and the social media. Many job seekers today use social media when looking for connections and job listings.
You could use social media pages such as Twitter, Facebook, and Linked In to post job openings. Other potential boards you can have the job description listed include Glassdoor, Monster, Indeed, as well as social media groups, forums, and industry-specific job boards.
6. Provide an Easy, Mobile-Friendly, And Smooth Online Application Process
Most job applications today are done online.
Making it possible for potential candidates to submit their applications via the company website can help improve the chances of finding and hiring the right candidate by at least 42%.
The application process, however, needs to be transparent, easy, and mobile-friendly. Most users do not have the patience to wait for the pages to load; one of the reasons you need to ensure the applications portal is fast and efficient.
The portal should make it possible for applicants to attach a cover letter and resume too. Be sure to eliminate any unnecessary steps, unclear instructions, and anything that would seem confusing for the applicant. The application process shouldn't take more than 10 minutes, either. According to CareerBuilder, most candidates will abandon applications that take more than 10 minutes.
As mentioned before, your website needs to be mobile-ready. An application should be able to submit applications via his/her mobile device. With many people today relying on mobile devices for almost everything, you too ought to make it possible for them to send applications from their phones as well.
7. Take Advantage of Automated Tools for Candidate Screening
Hiring online makes it easier to screen potential candidates without wasting much of your time. With the right tools, you could eliminate unqualified candidates with just a few clicks. This means you won't have to interview a bunch of unqualified candidates. The only way such automation would be effective is if the candidates were required to answer a set of questions, which can be used to filter out unqualified ones. The tools will then use the answers provided to find the best match for the position. the questions can be about work habits, experience, weaknesses, strengths, and other factors.
8. Learn to Communicate with Potential Candidates
Many job candidates today expect a transparent and proactive employer, and especially with communication. A study conducted by CareerBuilder shows that 52% of job seekers are frustrated when an employer doesn't respond to their applications. Even the simplest of responses, such as an automated "Thank You" email, when the application is received will go a long way in encouraging more and more candidates to submit their applications. You could also take a minute or two of your time to respond to the applications received, even if it means just giving them additional info about the company, customer testimonials, a link to your blog, accomplishments, and articles about your company.
Shortlisted candidates for the interview should also be alerted to ensure they know they are in the recruitment process. Sending them an email letting them know of this would be an excellent idea too. You can also use this email to enlighten them of the next steps, the hiring timeline, and when they should expect to hear from you.
Conclusion
Be aware of what you can do with your pipeline and an online job portal.
Nonetheless, it is important to correctly filter the best candidates quickly to avoid wasting time with the wrong ones and losing time for the good ones.
Hi-Tech Japan can help you save time for the right candidates.

Contact us for more information and what we can do for you.
HI-Tech Japan team