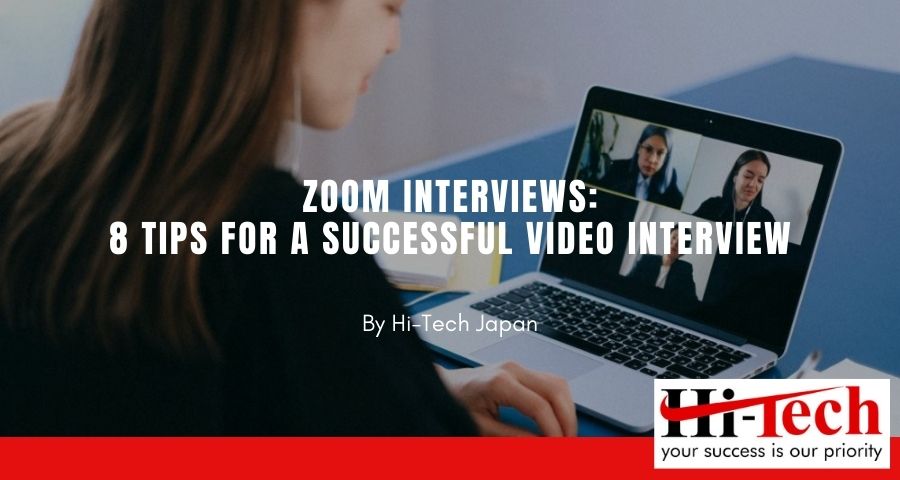 Zoom Interviews: 8 Tips for a Successful Video Interview
It is undeniable that zoom meetings are fast becoming commonplace and essential amid the COVID-19 pandemic. In the recent years, we have witnessed the advent of the biggest video tech platforms. Over time, however, I have grown and mastered the art of virtual meetings. You need to understand that looking straight into the camera creates the impression that you are making eye contact with the person at the other end of the video chat. Understand that quality is crucial and that the choice of your backdrop can make or break your job opportunity.
Below, we'll be sharing our top video interviewing tips. They should help you boost your confidence and ready you for the upcoming Zoom interview.
8 Tips For a Perfect Video Interview
1. Avoid Any Distractions
Definitely, you don't want a child anywhere around your space or a dog groaning in the background, but even the slightest interruption like a text message or children shouting in the next room can upset your concentration.
Distractions are shared in the case of face-to-face meetings, and both the interviewer and interviewee will turn their attention to the distraction at the same time. However, in a Zoom meeting, the interviewer won't realize that your dog is groaning in the background or the chat notification on your smartphone. You could easily miss a point, a question, or a chance to make an important point. Turn off all notifications and make your space as quiet and distraction-free as possible.
2. Make The Background An Accessory
Chances are you attend an interview all dressed up, and you will likely dress appropriately for your video interview. Avoid messing up your appearance with an untidy background.
For the choice of background, there are two viable approaches. You can choose to keep it simple, as in the case of a blank wall. It's dull but neutral. The second option, which is the better one, involves creating a background that somewhat describes you as a candidate. At the very least, I find it essential to be in what seems like a home office whenever you are applying for a remote position. This shows that you've invested the time and resources to create an effective working space.
3. Be Keen On Lighting
Overhanging fluorescent or incandescent lighting may not be the most favorable. While you may not need a professional lighting kit, you may have to find a way to utilize natural light from the windows to bring out your face's clear image. If possible, sit in front of a window for better illumination. It ensures perfect, uniform lighting during most daylight hours. When the sun is low, then it may be excessively bright. In such situations, find a spot where the light is well-scattered on your face. Backlighting barely works with computer cameras, and it wouldn't help placing the light source behind you.
4. Wear Earphones
With technology, you can always expect hitches. Lagging may occur, which often results in an echo if you're using earphones. Headphones guarantee sound quality and help avoid distraction from noises.
5. Be Punctual (Set an Alarm)
Showing up early for a Zoom interview is of no use. Being early by 15 minutes means that you'll be staring at a blank screen for 15 minutes. That's enough time to get carried away by the internet and forget about the meeting time. Worse still, you could disturb another meeting.
You don't want to show up late, either. Keeping the interviewer or recruiter waiting isn't a good gesture. Setting an alarm for both 10 minutes and 1 minute before the meeting works perfectly for me. Once the 10-minute alarm goes off, I sit at my desk, test my technology, and go through my notes. On hearing the 1-minute alarm, I join the meeting.
Where technology hitches get in the way and you show up to the interview late, be sure to apologize and clarify why you were late once you join the meeting.
6. Don't Chime In
Chiming in during a face-to-face interview may cause minimal disruption. As toddlers, we learned how to time our interruptions. However, in a video interview, it is good practice to allow the recruiter or hiring manager to make their point fully before joining in. Even the tiniest lag can interrupt the flow and make your interjection – even though it was designed to be kind and respectful – sound like a rude interruption.
7. Put Your Pants On
Besides boosting your confidence, pants will remind you of the prize at stake. While this may seem like a non-issue, but the real issue is how dressing for success mentally affects the process – even a Zoom interview.
I know of a friend who dons her shoes every morning before entering her guest room office to begin her workday. By putting them on, her mind shifts to work gear. Her feet can feel that they are appropriately dressed. Given her professionalism and energy, I can bet that dressing appropriately is worth it.
8. Ensure Your Tech Is Working
Over time, I've realized that people are tolerant in cases where technology mishaps occur. The reason for saying this is, video interviews can be intimidating for those interacting with Zoom and the associated tech for the first time. A good rule of thumb is testing with a friend. You may notice that Zoom is not yet installed on your PC. Perhaps, your mic isn't configured properly. Keep your cool if there's something that isn't working and follow these reliable tips:
· If your connection is troublesome, move closer to your router (and avoid displaying your messy house while trying to fix the connection issue).
· Always presume that the camera is on, even if you're aware that it is turned off.
· Whenever you are having mic problems, check to ensure that your mic and speakers are turned on.
· Inform the interviewer using the chat feature that you can't hear them.
These 8 tips will certainly help you get ready for your Zoom interview.
Keep your cool, accept the subtle uncomfortable moments common with video conferencing, and remember to send an email to thank the interviewer or recruiting team once you wrap up the interview.
Good luck with your interview process and don't hesitate to check our latest opening jobs in Japan.