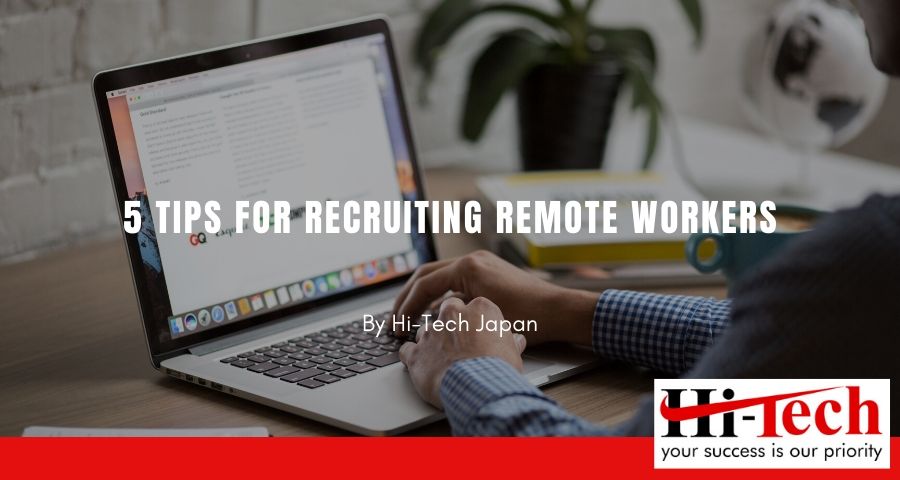 5 Tips for Recruiting Remote Workers
Take a keen look at the latest trends in the business world and you will realize that remote work is here to stay. Global giants such as Facebook, Square, Twitter, and Microsoft are setting the trend and many other companies are following. In this new model of working, distributed teams could operate 100% virtually and in-person meetings could be a rare occurrence (after months). This marks a shift from the status quo where companies provide workplaces for their employees as a standard practice.
However, with the shift taking place quite fast, you should take some time to learn how you can attract, recruit, and manage top talent in the new business environment. Keep in mind that working remotely changes the playing field for both employees and employers.
The latest figures indicate that Americans were commuting an average of 30 minutes to work each day last year. However, when working from home, you can get to your office in a matter of seconds. Doing away with the work commute could mean your team members getting up to 10% their day back.
And with the location of your staff not being important, as was the case in the years past, you do not have to focus on attracting and recruiting staff living within a 25-mile radius. You can scout and poach talent from anywhere around the world. Your team can be dispersed globally and working from towns you've never heard before.
With that in mind, you need to consider the employee's perspective and how working remotely will offer a different experience than working for any other company.
Herein are my best tips for attracting and recruiting remote talent.
1. Be Clear On Your Expectations Of Time
As more American shift to working remotely, we are working up to 3 more hours a day than before. This has a negative effect on a healthy work-life balance, which is worrying many employees. As such, when recruiting remote workers, you ought to be crystal clear about when they are expected to work and for how long.
Alternatively, if you focus more on results rather than the time spent working on a task, communicate such expectations upfront. Importantly, stick to what is expected.
Don't expect them to answer all your phone calls, especially during the off-hours.
2. Involve The Team
Team work has been fundamental to the success of many companies. And just because employees can work remotely does not mean the end of teamwork. To this end, try to connect your top candidates remotely with your team before you offer them a job. Since your new recruits might communicate with other team members exclusively, it is important that everyone gets along and develop a healthy 'work-place' relationship.
Typically, new recruits meet everyone in the office and they get to know each other in-person. Remote workers will be seating on the same seat every day but they might never experience the stimulations that come with in-person meetings.
3. Does "Work From Home" Equate To "Work From Anywhere"
Many companies are distinguishing between work from home and work from anywhere. For you to understand this up front is critical to your success in recruiting remote employees. You should be cognizant that some employees will deem the work from home does not mean work from everywhere as not trusting them.
For many remote talents, trust should inherent in a work from home setup until an employee is proven untrustworthy. As such, working from home means working from anywhere as long as the equipment and tools are available and they get the job done.
4. Create An Effective Communication Plan
You should find out your team's preference as far as modes of communication are concerned. Do they prefer to use messaging apps, emails, phone calls, or video calls? Do not assume everyone loves video calls.
While some workers love the interaction and stimulation, not all of your remote workers love video calls. An increasing number of remote employees are starting to get fatigued by taking too many video calls. When you have an in-depth understanding of the variety of communication channels work for individuals, you are better placed to get the most out of everyone. You are also able to make deeper connections and build a sense of camaraderie and belonging.
You can set touchpoints and check-in times to build a predictable and more efficient routine rather than making numerous video calls.
5. Empower Your Team Members To Play A Part In The Recruiting Drive
Given that you can make recruitments from across the world, ensure your team is equipped to share their new positions and roles on their LinkedIn profile as well as other social media accounts. Most businesses forget that their employees have hundreds of connections. Some of the connections are a great fit for the companies. As such, you should equip your team with all the information pertaining to new positions with your team to increase your chances of recruiting strong candidates that fit within your company.
As a pro tip, have an open mind when recruiting remote employees.
We take some getting used to when it comes to remote working. However, working from offices may be a thing of the past for some of us. Moreover, how we communicate with our team and how we get the job done will evolve and change over time.
As you build your remote team, keep in mind that the best candidate can come from anywhere across the world. The benefits and perks to attract top talents have changed from what they used to be a few years back. Boundaries and clarity about how and when are taking priority in today's work environment.
We hope it helped you and if you need support regarding your talent pipeline in the Japanese market, don't hesitate to contact us and let's see what we can do together.