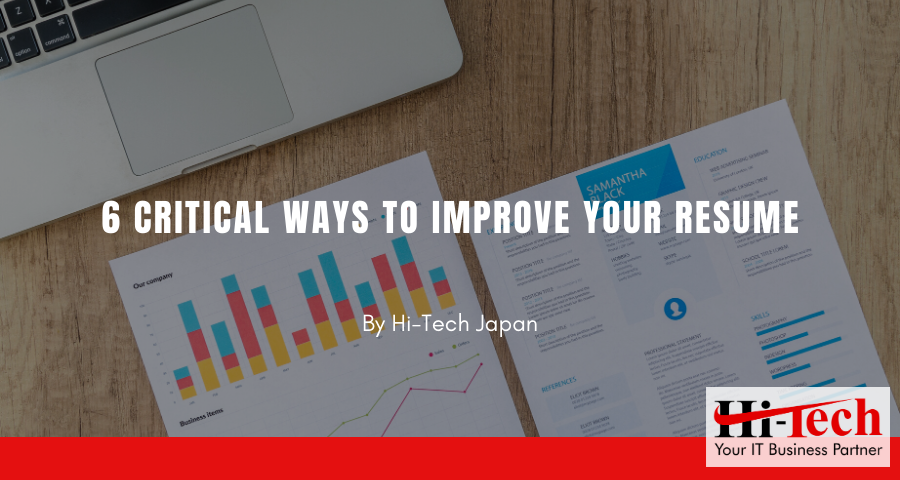 6 Critical Ways To Improve Your Resume Right Away
Most people have a hard time writing a good resumé. If you are looking for a job, you need a fancy resumé to get hired. Here are some of the best tips to make your resumé stand out.
Focus On The Future
Make sure your resumé is focused on the future and not the past. Remember, you are marketing yourself to potential employers. Look at your career goals then decide what to highlight and minimize in your resumé so it can stand out. For instance, make sure there is a lot of emphasis on the credentials, accomplishments and experiences that relate to the current position.
If you are one of the oldest job seekers, you should summarize some of your earliest work experiences and leave out the dates. Also, make sure you leave out your graduation dates. Are you looking to go back to a career you did a while ago? Make sure you mention the prior experience before mentioning any other professional experience.
Use Critical Keywords
Keep in mind that every recruiter or company will use keywords to identify the most qualified candidates. If you don't use the right keywords, your resumé will be completely overlooked, regardless of whether or not you are the ideal candidate for the job. Note that, some keywords are outdated such as 'personnel' which has been replaced by 'talent acquisition'.
Make sure you swap out the old jargon for the newer one when using critical keywords. If you want to update your lingo, you should consult online job postings and the 'about us' section of many company websites as well as social media sites. That way, you can put the right keywords that will spark interest in the recruiters and companies looking to hire new people.
Display Your 'Wow' Factor
Here, you need to identify the things that potential employers need to know about you. It can also be anything that makes you an impressive and ideal candidate for the job. You can highlight your achievements and make sure they show up prominently in your resumé. You need to consider the placement of these highlights.
For instance, you can place one item at the top of the page above. It can be above or below the headline that states who you are. Use a powerful statement when mentioning your previous jobs. You can also put a brief write-up of any other responsibilities you have had over the years. You can place the 'wow' content in a separate category in the resumé such as awards, honors or media mentions.
If you want to pull this off, you should ask yourself the following questions when filling out your resumé.
• When have I been the best or first at anything?
• What is the top thing I have achieved in any of my previous positions?
• Out of all my achievements, which one has the most impressive record?
• Have I ever been recognized publicly and what was it for?
Fill out the answers in the resumé and make sure they stand out.
Replace The Objective With A Summary
When you fill out the objective, you will be informing your potential leaders what you are expecting from them. Well, you shouldn't know that they don't care about this. Opt for a summary section which is a small synopsis of your professional life. You can use the summary to highlight your previous experience, your major achievements and your job history.
Of course, there are a few times when using an objective section might come in handy. For instance, if your objective isn't clear from your work experience, use this objective section to clarify things for the potential employers.
Make Sure Every Word Counts
Everything you write in your resumé should count. Here are a few tricks to consider here.
• Quantify all your achievements. Whenever possible, you should use figures, percentages and dollars to make your resumé credible. That's because numerous signify a measurable indicator of your previous performance. A mix of numbers with a good narrative will make the resumé compelling so don't overdo it.
• Use some context to make it easy for your potential employers to understand your accomplishments and their magnitude.
• Use a strong action verb to start every bullet point or paragraph.
• Don't use filler phrases or words. Avoid words like 'duties or responsibilities include' because they will dilute the resumé. Use short and tight words by removing the articles or conjunction words.
Make Your Resumé Easy To Skim
Most people skim over things rather than reading them completely. When writing your resumé use short paragraphs with a maximum of 3 or 4 sentences. If you have more things to say, you can create a paragraph with a bullet list. Use white space between paragraphs to make the resumé spacious. Take advantage of headings and subheadings to introduce new information and segment the entire document.
To Conclude
If you follow these advices you should be giving yourself more chance to be hired by pinpointing the best of your career.
Also, don't hesitate to contact us to get the latest opportunities in Japan.
Good job search!